Overview
Clarity
With a team of experts spread across six continents, BloombergNEF's coverage assesses pathways for the power, transport, industry, buildings and agriculture sectors to adapt to the energy transition. We help commodity trading, corporate strategy, finance and policy professionals navigate change and generate opportunities.
Clients
Our clients include corporate strategy and business development professionals, finance professionals (traders, analysts, portfolio managers), as well as policy makers and regulators. We work with the largest corporations across utilities and generation, oil & gas, equipment manufacturers, banking and finance, and government.
Experts
Our team of experts provides independent analysis and insight by looking at specific sectors and markets in depth, as well as cross-sector and cross-geography trends and implications.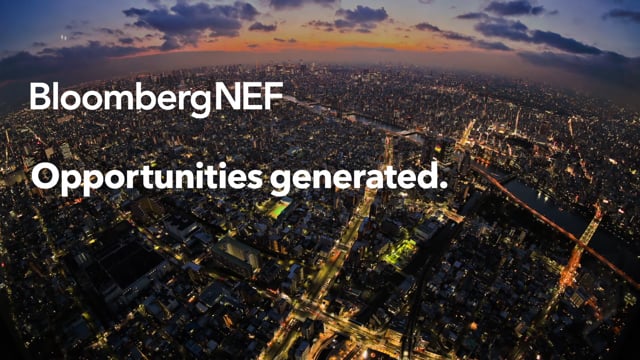 BNEF Summit series
The BNEF Summit has been convening leaders in energy, industry, transport, technology, finance and government since 2008, generating ideas, delivering insight, and making the connections that help them formulate successful strategies, capitalize on technological change and shape a cleaner, more competitive future.
BNEF Pioneers
BNEF Pioneers is BloombergNEF's annual climate-tech innovation competition. For more than a decade, the BNEF Pioneers program has identified over 100 game-changing technologies or innovations – each with the potential to accelerate global decarbonization and support an equitable energy transition. Learn more about BNEF Pioneers
Press
Inquiries
Contact our media team if you need a conference moderator or panelist, a source for a story, or background on a complex energy issue at bnef-media[at]bloomberg.com.
News
BNEF has been contributing to the conversation on the future of energy for more than ten years. Leading journalists from around the world rely on analysis, data and research from BNEF. See all press releases.
Get press releases delivered to your inbox. To sign up, please email us at bnef-media[at]bloomberg.com.
Careers
Who thrives here
You're one part idealism, two parts pragmatism and see opportunity in economic transformation. You work independently and show initiative to develop your own viewpoints, yet collaborate effectively with colleagues. You're capable of innovative thinking but know how to turn big ideas into real insights and impact. You can embrace both chaos and structure – whatever it takes to generate the unique perspectives our clients really value. And can picture yourself in workplace that is diverse, creative, focused and fun.
Sounds like you?
Join our team