A $27 billion energy project in Canada just became the latest casualty of a worldwide glut of natural gas.
Malaysia's Petroliam Nasional Bhd abandoned on Tuesday its plans for the Pacific Northwest LNG terminal, a plant that would have liquefied Canada's gas and sent the fuel by tanker from the western shores of British Columbia to markets in Asia. Petronas cited market conditions in its decision.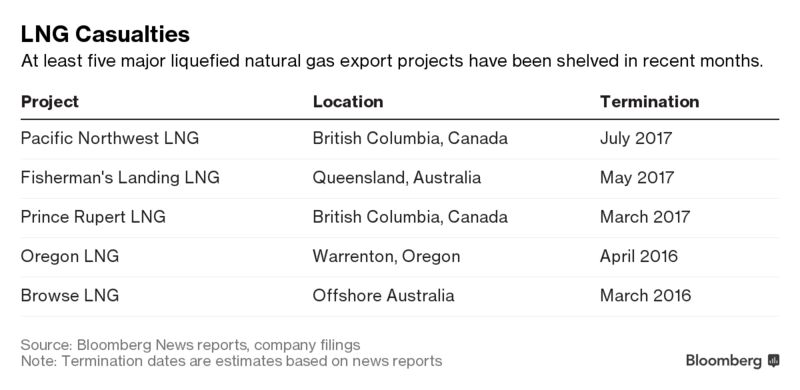 Pacific Northwest LNG joins a growing list of projects that have been killed in recent months by plummeting LNG prices, throwing the economics of export terminals from Australia to Russia to Mozambique into question. Prices have crashed as increasing volumes of gas from Australia and America's shale formations hit the water, inundating the market with so much supply that analysts say demand may not catch up until the next decade.
"Developers have been trying to jump on a rather full and over-hyped bandwagon," Muhammed Ghulam, an equity research associate at Raymond James in Houston, said by email. "There is simply too much LNG export capacity planned in North America, and cancellations, especially of Canadian projects, are likely to continue."
For an outlook on global LNG supply and demand, read this Bloomberg New Energy Finance report.
Last year, Woodside Petroleum Ltd. shelved its $40 billion plan to build a floating LNG terminal off Australia's western coast and a project in Oregon was canceled. More than two-thirds of the LNG terminals proposed to come online in the mid-2020s probably won't get built, Sanford C. Bernstein & Co. said in May.
Petronas said the decision to drop the Pacific Northwest project was driven by "prolonged depressed prices and shifts in the energy industry." The company and its partners — China Petrochemical Corp., Japan Petroleum Exploration Co., Indian Oil Corp. — remain committed to developing natural gas assets they've bought in Canada and "will continue to explore all options" for long-term investments, according to a statement.
The cancellation will see Japex take a loss of C$102 million ($82 million) for the year ending March 2018, it said in a statement Wednesday on its website. The Japanese company held a 10 percent stake in the Pacific Northwest project and was scheduled to receive 1 million tons a year of LNG from the proposed facility. There are "multiple alternative sources of supply" available to replace the cancelled volumes, Japex said.
Petronas's decision probably took into account an announcement earlier this month from Qatar, the world's biggest LNG exporter, said Jason Feer, head of business intelligence at ship broker Poten & Partners Inc. in Houston. Qatar said it plans to double gas production from the giant North Field, the source of some of the cheapest gas in the world.
"Anybody trying to raise money and get contracts has to look at, 'Can I beat that? Can I match it?'" Feer said.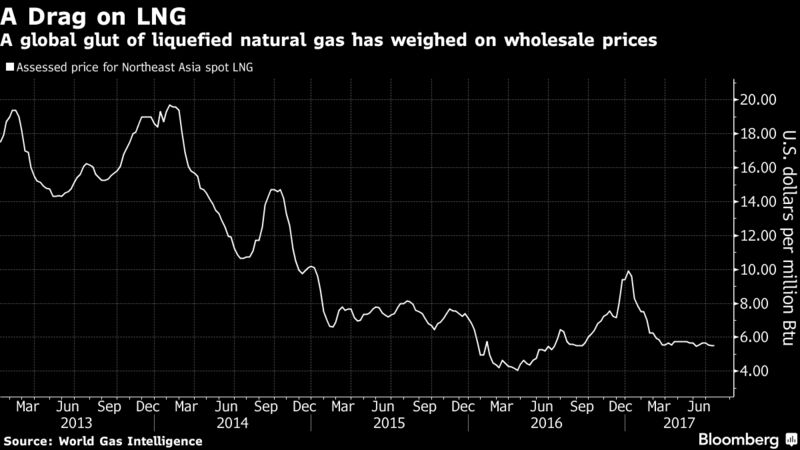 Smaller, more nimble LNG projects will probably have a better chance at surviving than the massive, multibillion-dollar ones that have traditionally been built, said Robert Norfleet, managing director at Alembic Global Advisors. Of the more than 20 LNG export terminals that have been proposed in British Columbia, only two of the smaller kind are progressing.
Meanwhile, big-ticket ones backed by companies including Chevron Corp.and Royal Dutch Shell Plc are languishing. "Our long-standing view is that Canadian projects are quite challenged," said Samir Kayande, director at Calgary-based RS Energy Group.
The Chevron and Woodside Petroleum Ltd. owned Kitimat plant is uncompetitive in the current market, Wood Mackenzie analyst Saul Kavonic said on Wednesday. Even if the LNG market recovers, Canadian projects must achieve substantial cost decreases before they become competitive with new supplies from Qatar, Mozambique and the U.S., the consultancy noted.
Asian buyers also prefer buying gas under the more flexible contracts U.S. LNG suppliers are promising, with terms linked to U.S. benchmark gas prices. In contrast, high-cost Canadian projects like Petronas's have typically needed long-term contracts based on higher prices linked to crude to attract financing.
"The moral of the story is, if the U.S. is entering a business, you'd better be ready to compete on cost," said Kayande. "You can't just sit around waiting for a higher price."
British Columbia Energy Minister Michelle Mungall said Tuesday that the province "remains a player in the LNG sector." She said she planned to reassure other project developers of the government's support, including China's CNOOC Ltd., whose Nexen Energy unit is proposing the Aurora LNG terminal in the province. That project has "every intention of moving forward," she said.
Others aren't as optimistic.
"LNG is now a global market that is going on everywhere else on the planet," said Rafi Tahmazian, a fund manager at Canoe Financial in Calgary. "Canada missed out on that opportunity."
— With assistance by Kevin Orland, and Perry Williams