The Navajo generating station, the biggest coal-fired power plant in the U.S. West, will live to see another two years.
On Monday, Navajo Nation leaders approved a lease with the plant's utility owners that will keep the ailing, 2,250-megawatt complex operating through December 2019. The owners signaled on Tuesday that they'll sign the deal this week, the Navajo Nation Council said by email.
The agreement was the Navajo Nation's last hope in keeping the coal plant located on reservation land in the Four Corners area of Arizona running for a little while longer. Without it, the plant's utility owners led by Salt River Project said they'd cease operation at the start of July and immediately begin decommissioning activities. Under the new lease, Salt River said retirement of the plant will now begin after 2019.
"The owners are very pleased that the Navajo Nation Council approved the replacement lease," Mike Hummel, deputy general manager of Salt River Project, said in a statement Tuesday. "This agreement provides meaningful benefits for all involved and creates a path forward during this challenging transition."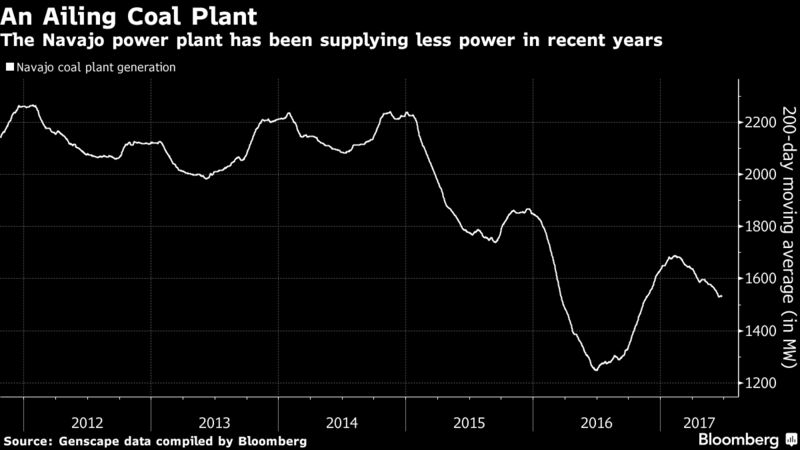 The fight to rescue the Navajo coal plant, which is facing fierce competition from generators fueled by cheap natural gas, is testing President Donald Trump's resolve to rescue America's coal industry and bring mining jobs back. Tribal leaders have appealed to the administration for help, and U.S. Interior Secretary Ryan Zinke has said the agency's looking at all options to save it.
The new lease would preserve more than 800 jobs at the power plant and coal mine that supplies it, said Jared Touchin, a tribal council spokesman. The agreement would also hand the tribe $110 million in lease payments, $39 million in coal purchases and $18 million from savings for not decommissioning certain assets.
The tribe's leaders have been working with federal and state officials to try to line up a new owner of the facility that could operate the plant beyond 2019, Touchin said. The current owners would like a potential buyer lined up by Oct. 1, he said. A sale faces an uphill battle given the weak economics for coal and the high cost of retrofits and repairs.
To make the plant a more attractive asset, a member of the Arizona Corporation Commission has proposed that the U.S. Interior Department, which has a 24 percent stake in the plant, commit to covering half of its maintenance costs.
The plant's operations "can continue while stakeholders examine opportunities for a new operating partner to extend the life of the plant beyond its original 50-year lease," Zinke said in an emailed statement.